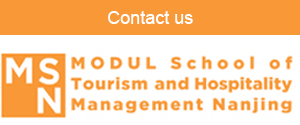 Library
Opening hours: open 8.30 A.M. – 9.30 P. M.
Semester Break: Library is CLOSED for winter vacation & summer holiday!
Have a nice break!
Search for Books Available at the Library ( also available through wechat account NJPUJIANG)
Pujiang Library Online Catalog
Search for Electronic Resources
EBSCOhost (business database BSP - partly with fulltext)
ScienceDirect-Elsiver (e-journal plattform - partly with fulltext journals)
SAGE journals: Cornell Hospitality Quarterly, Journal of Travel Research
You can ONLY connect to EBSCOhost, ScienceDirect-Elsiver, SAGE journals and any other international electronic resources when you are using njpji internet environment ( internet cable or wifi).
If you need articles from Cornell Hospitality Quarterly, or the Journal of Travel Research, please download them while you are on campus. Photocopies and Printing
Please bear in mind that the copy machine in the library works with your new student ID card only! The price of a photocopy or a print is RMB 0.3yuan per b/w A4 page.
Further Information
See Downloads (box on the right) for e.g. information on using other libraries in Jiangsu Province etc.
For general questions, please contact us at library@modul.ac.at