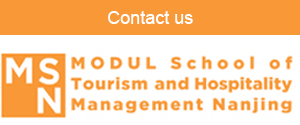 Student Service Center
Welcome to the SSC!
The Student Service Center aims to enhance the student experience at MODUL School Nanjing by providing a wide range of support services for all students in a warm and welcoming environment.
Students come to the SSC for:
First point of contact for all student life inquiries (housing, visa, administration, event management)
Student advising (personal development, conflict management)
Academic tutoring (student-to-student tutoring)
Professional psychological counseling (referral to university counselors)
Official documents needed by (foreign) authorities like transcripts, confirmation of studies/enrollment and other university forms such as credit transfer or special consideration
Information about Student Exchange
Questions regarding the Student Union (ÖH)
Any question they don't know whom to ask
For diversity-related issues (gender equality, special needs, discrimination, etc.), the SSC refers students to the Equal Opportunity Working Officer (EOWO) of MODUL School Nanjing.
Where academic advising is concerned, the SSC refers students to class mentors. The role of class mentors is to both support and offer academic advising to students during their time at MU.
The SSC refers students to the Studies and Examinations Committee for issues related to studies and examinations. The Studies and Examinations Committee ensures that the examination regulations are complied with, sets activities to achieve the highest possible standards of academic integrity, and reports regularly to the Deans on the development of the examination results and cases of academic misconduct.
We are here to help our students!
Contact: Rick Li
t: 025-66205178
Opening Hours for Students [to be revised!]
Monday - Thursday: 10 am -12 pm and 1 pm - 4 pm
Friday: 12 pm-2 pm
Students are always welcome to make appointments to visit the SSC outside the opening hours.