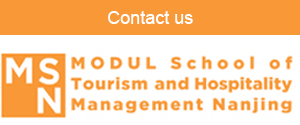 Publications
Conferences:
● Zins, A.H. (2017), Hospitality and Tourism Education in Austria, China Tourism Education Association Annual Conference and International Forum on Tourism Education, Guangzhou, China, 1 Dec. 2017.
● Zins, A.H. (2018), Erste Erfahrungen mit einem dual-degree Bachelor-Programm in China (translated: First experiences with a dual-degree bachelor program in China), Tagung: Ausländische Durchführungsstandorte von österreichischen Privatuniversitäten: Cui bono? Erste Erfahrungen (translated: Conference on: International locations of Austrian Private Universities: cui bono? First experiences), Vienna, 6 April 2018.
● Jang, S.Y. and Zins, A.H. (2018), Is higher education in China ready to face off with its tradition?, 16th Asia Pacific CHRIE Conference, Guangzhou, China, 31 May – 2 June 2018.
● Zins, A.H. and Jang, S.Y. (2018), Towards a better understanding of higher education in tourism and hospitality management in China, 8th Advances in Tourism and Hospitality Marketing and Management Conference, Bangkok, Thailand, 25-29 June 2018.
● Jang, S.Y. and Zins, A.H. (2018), Demands of hospitality industry and challenges of higher education in China, 24th Asia Pacific Tourism Association (APTA) Annual Conference, Cebu, Philippines, Mactan, Cebu, Philippines, 3 – 5 July.
Printed publications:
● Zins, A.H. and Jang, S.Y. (in print), Review and assessment of academic tourism and hospitality programmes in China, in: Liu, C. and Schänzel, H. (eds.), Tourism Education in Asia, Springer.