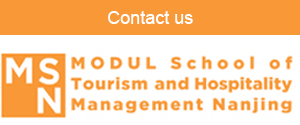 Guidebook, rules and regulations
MU Student Guidebook
Successful preparation for student life has been proven to result in academic success, and the Student Service Center at MODUL School Nanjing has therefore created a Student Guidebook.
We hope that this guide helps you prepare for MSN and enjoy MSN in the best possible way! It offers information to lead you towards a smooth beginning as you transition to studying at MSN and living at Pujiang Campus.
Once you are familiar with the contents of this guide, keep it with you for future reference; yet remember that MSN's Student Service Center is always here to assist you.
From here, you can download and read the following documents:
•2016 Students' Academic Handbook
•2017 Students' Academic Handbook
•Study Agreement BBA 2016
•Study Agreement BBA 2017
•Study Regulations 3-years' BBA Tourism and Hospitality Management 2017
•Examination Regulations and Student Code of Conduct 2017
•Guide to Understanding Plagiarism Spring 2016
•Special Consideration Form to the attention of the Dean
•Special Consideration Form to the attention of the Lecturer
•MSN Academic Misconduct Appeal Form