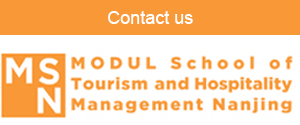 Scholarships
The Chinese Government offers two types of scholarships:
1. National Scholarship: 8,000 RMB
2. National Encouragement Scholarship: 5,000 RMB
The university offers the following prizes:
1. 1,600 RMB per academic year
2. 800 RMB per academic year
3. 500 RMB per academic year
MODUL School Nanjing offers the following incentives:
MSc Scholarship for Dean's List Award Recipients
Students who have been named to the Dean's List twice during their MSN undergraduate career will receive a scholarship for MU's MSc program and only pay €11,000 tuition for the entire program (excl. Early Bird Reduction). (*The alumni grant or other MU scholarships cannot be used in conjunction with the Dean's List MSc Scholarship.)
Dean's List award requirements:
Students must earn a minimum of 24 ECTS or more during a semester at MODUL School Nanjing. Students need a GPA of 90% or above and cannot have earned a final grade below 80% in the respective semester. Only courses at MODUL School Nanjing qualify in the GPA calculation. Only first attempts will be counted (if a student fails a course the first time and then retakes it, it will not be taken into account).
MODUL University Alumni Grant
Amount:
Applicants for a Master of Science program: €2,000
Applicants for the MBA program: €4,000
Eligibility: All applicants who graduated from a Bachelor study program at MODUL University Vienna or MODUL School Nanjing.
Application format: no application required
Undergraduate Valedictorian Award
Amount: €24,000
Eligibility: MSN Bachelor graduate applying for a MSc program at MU Vienna.
Overview: This scholarship is awarded to one student who has the highest academic record of all graduating students (from all Bachelor study programs) in a particular academic year.
Application format: no application required